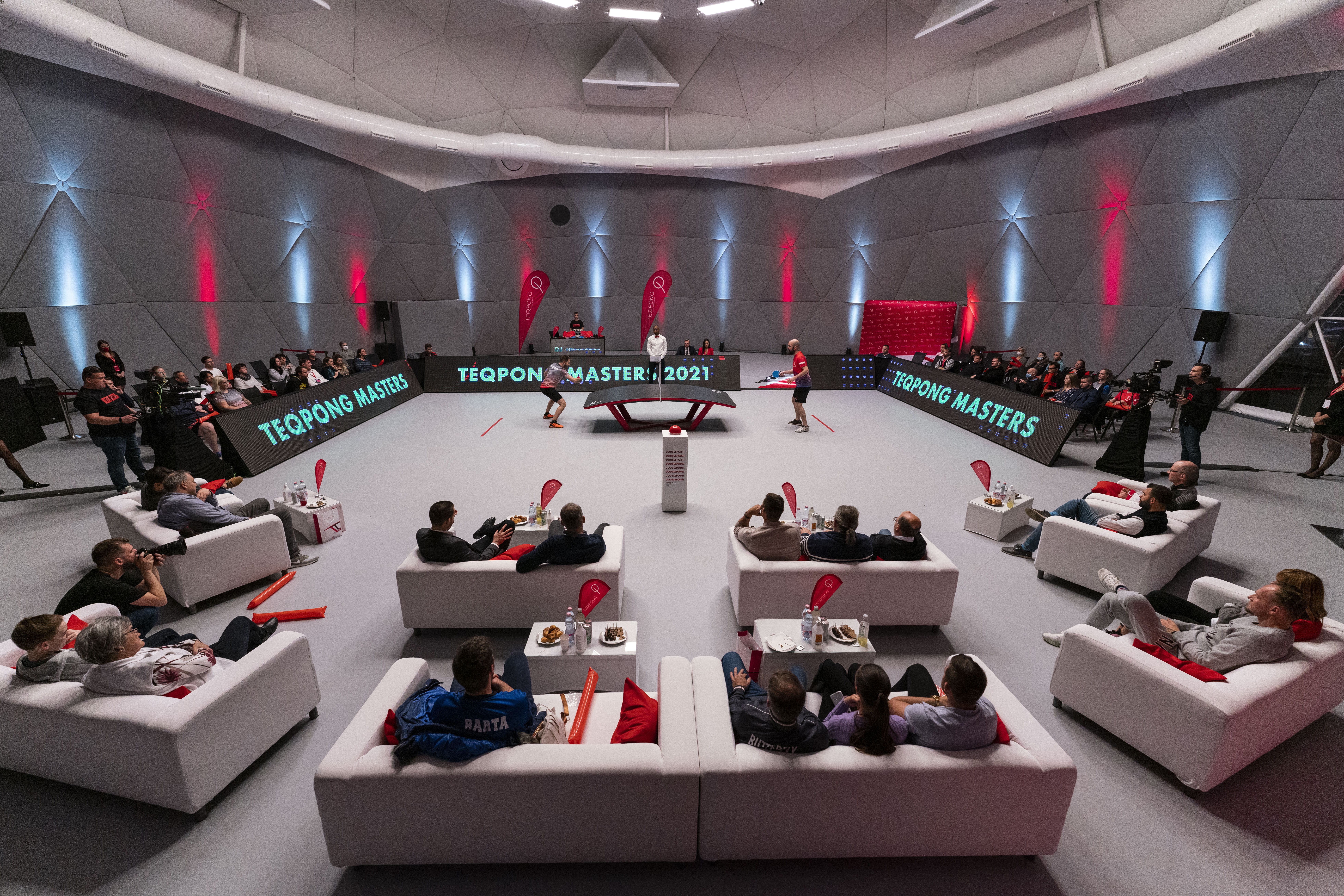 The invitational teqpong masters 2021 was held on the 13th of November at the Teq Arena. The worlds top 8 male players battled it out for the men's singles title along with 4 of best women players for the women's singles title.
The women's singles final saw Anita Kaloz from Romania face Leonie Hartbrich from Hungary, the pair had already faced each other in the group stages with Kaloz taking a 3-0 win. Kaloz took the lead in the final winning the first game 12-7 with strong performance. However, the blonde fighter Leonie fought back to bring the match to a final game. The final game could have seen either player emerge the winner and after several match points, Anita Kaloz took the final game 14-12 crowning herself the women's singles champion.
In the para teqpong exhibition match fans enjoyed a spectacular tight match with both players showing what para teqpong has to offer. In the end there could only be one winner and after both players has match points eventually Attila Laszlo took the match winning the final game by 15-13.
In the men's singles the 2019 world champion Alfredas Udra was stopped in the semi-final by the current world number 1 Kristof Zakar in a close 3-1 match. In the other semi-final Austria's Roman Kiessling edged out Sebastian Stürzebecher from Germany in a thrilling 3-1 match.
In the final both players felt the nerves and the pressure of the prestigious title however Kristof Zakar comfortably took control of the match, and his experience and constant attacking was too much for Roman 'The Burner' Kiessling to handle, 'The Burner' fought back with some spectacular quick reactions however Zakar took the match, winning 3-0 (6, 9, 6).
Results:
Women's Singles Final
Anita Kaloz (ROU) beat Leonie Hartbrich (HUN) 3-2 (7, -9, 7, -11, 12)
Para Teqpong Exhibition
Attila Laszlo (HUN) beat Milan Ivancsik (HUN) 2-1 (8, -10, 13)
Men's Singles Final
Kristof Zakar (HUN) beat Roman Kiessling (AUT) 3-0 (6, 9, 6)